Hey, all!
As always, thanks a million for playing a major role in building out our Alta Labs community! We greatly appreciate the time you take to provide feedback, as questions, report potential bugs/issues, and work together to Elevate the world of networking!
We continue to work on building out the stories section of our forum. We love hearing about your projects, seeing where Alta Labs products are being installed and living vicariously through the stories you share about your work. To help provide some incentive to take an extra few minutes, snap a few pictures of the jobs you are on, and share a quick summary of all that went down, we are throwing out an Alta Labs hat for each stories shared in the month of August. To sweeten the deal, the most liked story from a commercial and residential project, will both receive one of our new 8 port switches (S8-POE) and two of our AP6-PROs.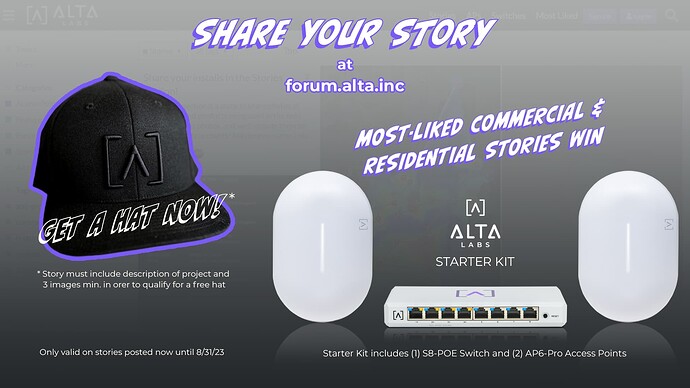 Once our team sees your qualifying story, we will message you directly for shipping details so we can get your hat to you.
Feel free to post any questions you have about this here! Thank you!