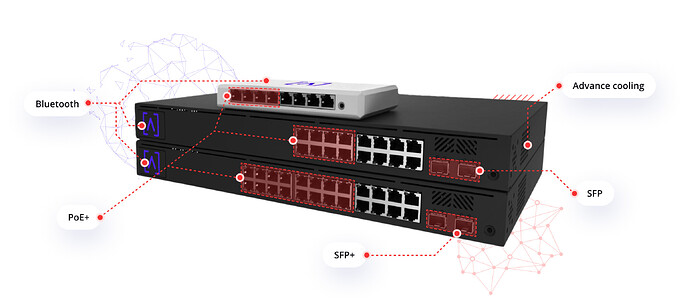 Now available for pre-order at : ALTA PoE Switches
Can you please provide warranty details?
Nice! Are you shipping to Europe?
@kingsleyadam ISP Supplies is based in the US but can you share which European country you are based in and I can connect you with a European partner that will be getting stock of our switches soon as well? If you'd prefer you can also direct message me here in the forum or send an email to me at dallin@alta.inc.
@Skyweir you can find our warranty page here: Warranty. As indicated there we provide a 2 year warranty on Alta Labs products.
I'm in The Netherlands, so any providers within the EU would work. Thanks!
A little higher than I was hoping, but still reasonable. May have to stick with my other UBNT equipment longer for now.
Is there a way to demo the interface for these devices? As I've mentioned in other threads, I'm having a helluva time configuring VLANs across a frankenstein network, and my enterprise-grade Netgear switch seems to need a PhD to configure correctly…
Can we have / see demo of interface etc. ? Thnx
how about delivery in Denmark ( Got my APs from www.dustin.dk )
Will they have switches soon too?
Thnx
Br,
would it be possible to get some datasheets on the switches? or are your going to upload them on your site soon?
@Battaglin Yes, Dustin will have our switches (we are working with them on the timeline for when they will receive them). I believe they are working on getting them added to their website so that they can accept pre-orders. Also, keep an eye on the switches page of our website. It will be updated soon with full details including images of the interface etc. Switches
Do you have plans to distribute to the UK, I'm waiting on ordering some AP6's until I know I can use a PoE switch and not injectors.
Thanks
Good Afternoon @NickW ,
Our listing for the 8-Port switches is just being finalised, with the 16-Port and 24-Port to follow shortly afterwards.
Pre-orders will then be possible through our website - Buy Alta Labs Products Online. Alta Labs UK Stock. Expert ...
We are currently expecting the 8-Port units to be with us at the end of August and the 16 & 24 port switches early to mid-September as things stand.
Thanks, I shall get my order placed.
Hi! Any information on when the switches will be available in Norway?
//Alex